(Open Call) Unity Game Developer (Jnr./Graduate)
SYDNEY, NSW, Australia
Full Time
SMG Studio
Experienced
Note: As of 2021: there is no active role right now. Please add your resume/details here for future consideration.
SMG Studio is looking for a junior / graduate Unity game developer that wants to make awesome games for every platform. You're at the start of your career and keen to show off your potential.
If you are a senior developer please see our other job listing. Do not apply to both positions.
You'll create game prototypes, work as a team on larger projects and help deliver projects to completion.
Our games: [Unannounced New IP], Moving Out, Fast and Furious Takedown, Thumb Drift, OTTTD, One More Line, One More Dash, RISK & Death Squared.
Our Showreel or go behind the scenes of the studio.
You will have the opportunity to work on high-profile IP as well as original IP.

Requirements:
Demonstrated knowledge of C# (Unity3D) with strong coding standards
Understanding of game design principles and player experience
Experience with GPU programming / shaders (targeting mobile devices)
Ability to work in a team and develop re-usable commented code
Experience in SVN and GIT version-control software
Experience in cross-platform (Android & IOS) development
Working knowledge of 3D modeling / lighting / UV-mapping / texturing
Experience with VR, Kinect, Leap Motion = bonus points!
Experience with car games = Let's talk!
Able to work in-house in our Sydney studio (we can help with accommodation)
What we're looking for:
A keen eye for polish, detail and performance
A passion for focused game design / innovative ideas
A team-player looking to collaborate and share
Ambitious use and embrace of new technologies
A passion for constantly making things better and mastering your craft
The Team:
We're a tight and experienced team from all around the world from Russian, Brazil, France, Italy, UK, Germany and even NZ!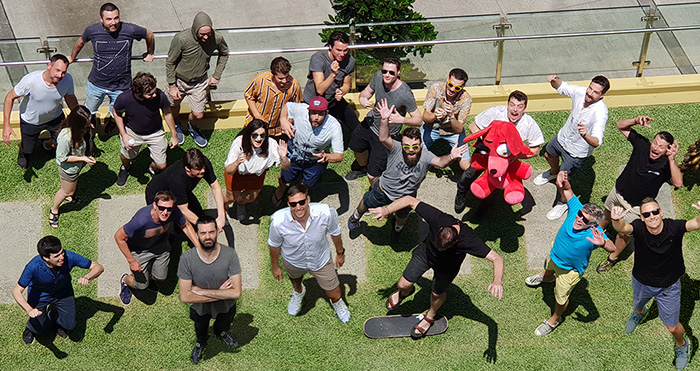 Perks & Benefits:
Remuneration based on experience
5 weeks annual leave after 2 years
Increased paid primary carer's leave from 12 weeks to 16 weeks

Superannuation is paid on any unpaid leave (up to 52 weeks)

Increased paid secondary carer's leave from 2 weeks to 4 weeks
Learning workshops across a variety of topics (Project Management, Resilience & Stress Management and Time Management)
Flexibility to work from home on a regular basis
One day a year paid charity volunteer day (One Day for Change)
Employees can apply for seven short winter/summer days per year
Free counselling . Employee Assistance Program, 24 hours | 7 days.
Health insurance discounts from Medibank Private
Vehicle discounts. Discounts from BMW, Mini, Jaguar, Land Rover ​and Holden
Novated lease available for new cars
Qantas Club discounts
If you're starting your career, care about your work, want to work with like minded people then let's talk.
Please send through samples of your work so we can play & videos of gameplay to watch.
Applications without games to play/watch will be ignored.
Apply for this position
Required*